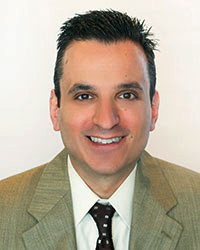 Panagiotis Vlagopoulos, M.D. earned his medical degree from Temple University School of Medicine, Philadelphia, PA. He trained in Internal Medicine at the University of Massachusetts Memorial Medical Center, Worcester, MA and completed his Fellowship in Nephrology at Tufts Medical Center, Boston, MA in 2003. He continued his training at Tufts in a Clinical Research Fellowship in Nephrology through 2005. Dr.Vlagopoulos joined the practice in 2005.
Dr. Vlagopoulos is certified in Internal Medicine and Nephrology by the American Board of Internal Medicine with medical licensure in Massachusetts.
He is a member of the American Society of Nephrology and Massachusetts Medical Society.
Dr. Vlagopoulos is co-author of several publications in medical journals related to the field of Nephrology.
His interests include chronic kidney disease, acute kidney injury (acute renal failure), dialysis, hypertension, kidney stones and post kidney transplant care.